BAI Chunli meets with BIG researchers in Saudi Arabia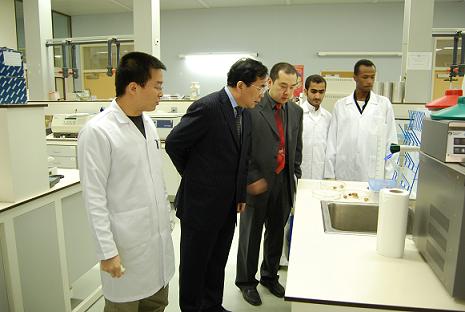 On April 6, 2009, CAS Executive Vice President BAI Chunli met with BIG researchers during his visit to King Abdullaziz City for Science and Technology (KACST) in Riyadh, Saudi Arabia.
Prof. Bai first visited the laboratory for the Date Palm Genome Project (DPGP), a collaborative project initiated by KACST and BIG, and listened to the presentation on recent progresses of the project. In the following talks with BIG researchers, Prof. Bai first warmly appreciated all the researchers working together for this project. He also congratulated the scientists that Chinese President Hu Jintao has paid great attention to this project and listened to the report from the researchers in February.
Talking about DPGP, Prof. Bai said that the project has great significance not only in genomics and life sciences but also in economy and other areas. It is also a special milestone in the international collaboration history of CAS. As the biggest Sino-Saudi non-governmental research project, the success of DPGP and the future establishment of Joint Genomics Center of Excellence between KACST and CAS will play an important role to enhance mutual exchange and collaboration for both countries in science and technology.
During his visit, Prof. Bai also met with leaders of KACST. The Saudi part highly valued the cooperation with BIG researchers on this project and also expressed great interests to extend collaborative activities in other research fields of CAS.