Professor YANG Yungui Was Awarded the CAS International Cooperation Award for Young Scientists
During a symposium on August 30, 2013 in Beijing, the CAS International Cooperation Award ceremony for Young Scientists was hosted by CAO Jinghua, the Vice Director of the Bureau of International Cooperation. Twenty foreign experts and their partners in China (from 13 different institutes) attended the symposium. CAS Vice President ZHANG Yaping and Vice Secretary General TAN Tieniu were also among the attendees.
President ZHANG conveyed the Award to six young foreign scientists and their partners in China. Professor YANG Yungui from Beijing Institute of Genomics(BIG) and Dr. Jannie Danielsen from University of Copenhagen were among the recipients of this prestigious prize.
Professor YANG Yungui's group mainly focuses on resolving the mechanisms that maintain genomic structure and stability and prevent cellular degeneration, which still pose a major challenge in disease research. They are currently working on unraveling novel aspects and broadening the emerging field of Epitranscriptomics.
Since 2009, taking complementary advantages of each other, Dr. YANG and Dr. Danielsen have made significant progress towards understanding how RNA epigenetic control and DNA repair acts in concert to maintain genomic stability. This work uncovered a novel regulatory mechanism of non-coding RNA in the DNA damage repair pathway.
The two young scientists will continue working together and sharing their ideas and expertise in the fields of cell biology, genomics and animal models. They aim to broaden our understanding of the role of RNA epigenetics in maintaining genomic stability and how RNA epigenetics might be linked to human diseases.
Initiated in 2011, the CAS International Cooperation Award for Young Scientists has been set up to recognize and honor international young scientists and their CAS collaborators whom have made substantial progress within their field of research, The Award is an encouragement for long-term international partnership among young scientists and to establish global networks supporting excellent research. It is also aimed at fostering and promoting the innovation of science and technology at CAS.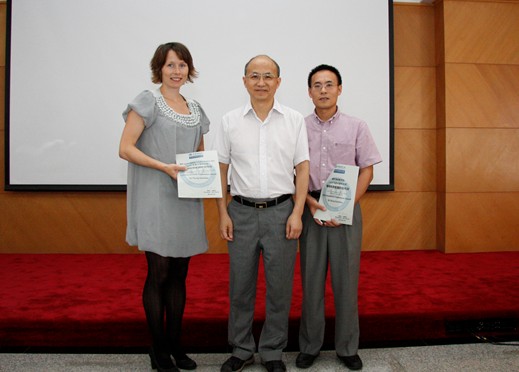 CAS VP ZHANG Yaping conveyed the Award to Prof. YANG and Dr. Jannie Danielsen