German Delegation Led by Prof.Ulrike Protzer Visit BIG
Prof. Ulrike Protzer, the director of the Institute of Virology in Technische Universität München, led a delegate of German scientists visited Beijing Institute of Genomics(BIG) in Oct 17th, 2013. The delegation was invited by Dr. ZENG Changqing, the director of the Division of Disease Genomics and Individualized Medicine at BIG.
A signing ceremony was held for the collaboration agreement between the laboratories of Drs. Ulrike Protzer and ZENG Changqing. More than 10 scientists who have done active research in field of viral hepatitis attended the ceremony.
This event was hosted by Dr. YAN, the chief of the Research and Technology Section of BIG, Prof. ZHANG Dexing the deputy director of BIG delivered a warmly welcome speech to the guests and introduced the infrastructure and recent progress at the institute.
Dr. Strelen, the German director of the Center introduced the Sino-German Center and reviewed the current collaborations between Germany and China. She also wished further deeper cooperation between German and Chinese teams.
Dr. ZENG introduced the brief history of BIG and research at the labs in Disease Genomics and Individualized Medicine. At the end of the ceremony, Prof. Protzer and Prof. ZENG signed the agreement to begin a long-term collaboration on genomic studies of the HBV and hosts.
After the signing ceremony, Prof. ZENG invited German guests to the top of BIG building to have a bird-view of the entire campus, and then visited PI laboratories, the sequencing facilities, and the high performance computers of the institute. The German scientists were impressed by the institute research environment, especially the sequencing equipment of all generations and the mainframe computers and the near 4000TB computation capacity of BIG.
This visit provided a window for German scientists to view the current research conditions and national efforts to facilitate the scientific research in China, and especially made a new understanding of the capacity on sequencing and analysis. This gathering brought German delegates confidence and increasing enthusiasm for further collaboration between the scientists of the two countries.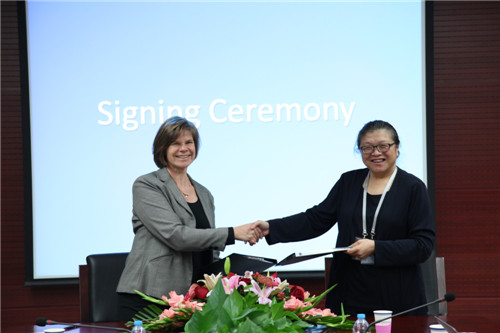 The signing ceremony(Image by ZHOU Mengling)