The BIG Data Center: From Deposition to Integration to Translation
Nowadays, China has become a powerhouse in generating vast quantities of biological data, but is in the embarrassing situation of lacking a centralized data center that is committed to opening data in this big data world and to making data well-organized and publicly accessible to worldwide scientific communities. The BIG Data Center, established at Beijing Institute of Genomics (BIG), Chinese Academy of Sciences (CAS), takes full advantages of valuable resources and experiences in BIG as well as partner institutions to provide sustainable and reliable services in aid of research activities throughout the world.
The BIG Data Center presently provides a suite of database resources, including Genome Sequence Archive (GSA); a data repository specialized for archiving raw sequence reads, Gene Expression Nebulas (GEN); a data portal of gene expression profiles based entirely on RNA-Seq data; Genome Variation Map (GVM), a comprehensive collection of genome variations for featured species; (4) Genome Warehouse (GWH), a centralized resource housing genome-scale data with particular focus on economically important animals and plants, (5) Methylation Bank (MethBank), an integrated database of whole-genome single-base resolution methylomes, and (6) Science Wikis, a central access point for biological wikis developed for community annotations.
The BIG Data Center provides freely open access to a variety of database resources in support of research activities in both academia and industry throughout the world. With the ultimate goal to advance life and health sciences, therefore, it is dedicated to constructing and maintaining biological databases by value-added curation and performing basic research to address critical challenges in big data deposition, integration and translation. The BIG Data Center, albeit relatively young, will grow to be indispensable for worldwide biological studies as more data are integrated and its associated services are mature.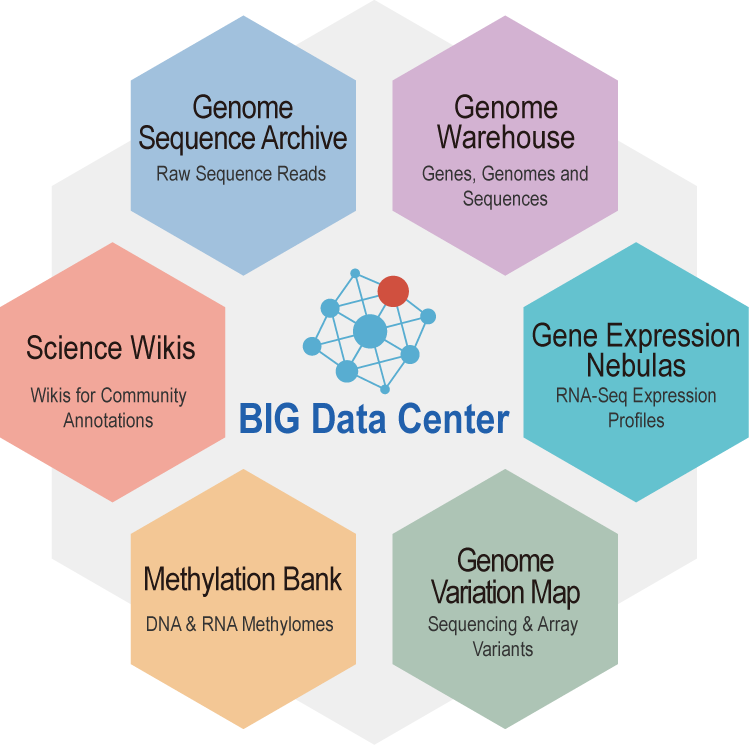 The BIG Data Center's core data resources,(Image by BIGD)
Contact:
Prof. ZHANG Zhang
BIG Data Center, Beijing Institute of Genomics,
Tel:86-10-84097261
Email: zhangzhang@big.ac.cn