Genomics Proteomics & Bioinformatics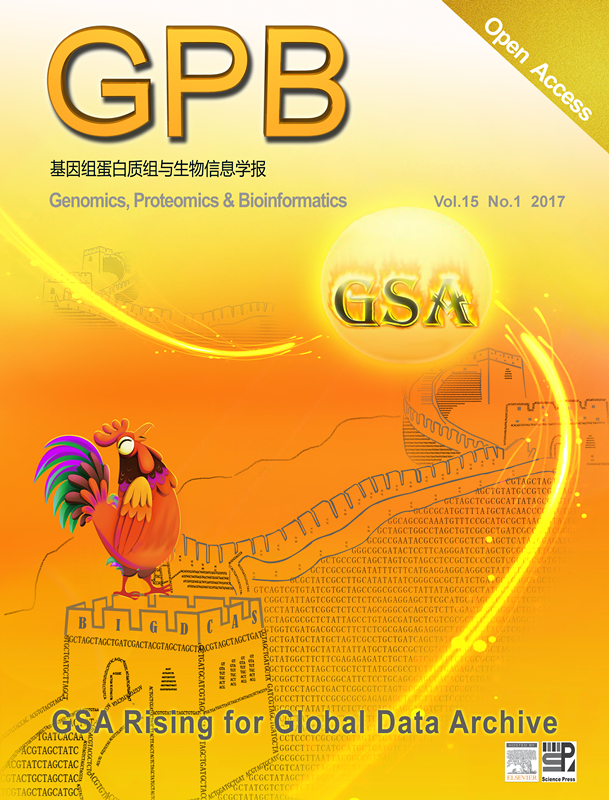 Genomics, Proteomics & Bioinformatics (GPB; ISSN 1672-0229, CN 11-4926/Q), a peer-reviewed international journal in English, is sponsored by Beijing Institute of Genomics, Chinese Academy of Sciences and Genetics Society of China, and jointly published by Elsevier and Science Press bi-monthly. GPB is Open Access since 2013 with Production and Hosting by Elsevier.
The goals of GPB are to disseminate new frontiers of the focused research fields, to publish high-quality discoveries in a fast-pace, and to promote open access and prompt online publication for efficient publishing.
The publications of the journal are high-quality papers from all over the world in the fields of various omics and bioinformatics. For manuscripts submitted to GPB, direct rejection, direct acceptance or further review will be decided within 5 days. Besides, GPB offers Article-in-Press, by which all the accepted manuscripts can be available online ahead of its printed issue print for fast dissemination.
Featured areas and particular interests of GPB are large-scale data and analysis based on high-throughput sequencing technologies with a focus on the integration and cross zones of omics and bioinformatics. These include but are not limited to:
• Genomics: systematic studies and technology developments in genomics, genome evolution, epigenetics, as well as other DNA- and RNA-based "omics"
• Proteomics: proteomic technology developments, protein expression profiling, protein complexes in terms of structure, function, properties, and interactions, as well as metabolomics
• Bioinformatics: genome analysis, sequence analysis, genetic and population analysis, data mining, phylogenetics, gene expression, database, web server, algorithm, tools, and software
GPB welcomes submissions in the following types:
• Original research articles presenting novel data and ideas
• Papers describing innovative methods, protocols, tools and techniques, application note, database update as well as database review and resources providing primary scientific information to a broad readership
• Comprehensive reviews either as full articles, mini-reviews related with authors' own research and life time achievement reviews of authors' own research
• Perspectives, News and Views about new discoveries, scientific policies, and research proposals
• Research Highlight and Preview about the latest findings published to understand importance of the study
• Historical Note for a comprehensive description of an important scientific event in the field with proper comment.
• Other article types include meeting report, editorial, letter to the editor, etc.
The journal has been abstracted/indexed in SCIE, PubMed/MEDLINE, PubMed Central, BIOSIS Previews, Scopus, Chemical Abstracts, ROAD, DOAJ, Abstract Journal, EMBASE, Index Copernicus, WPRIM, CSCD, CSTPCD, COAJ, etc.
Submit online at http://ees.elsevier.com/gpb.
Track accepted articles online at http://authors.elsevier.com/TrackPaper.html.
Read online at ScienceDirect http://www.sciencedirect.com/science/journal/16720229; at PubMed Central https://www.ncbi.nlm.nih.gov/pmc/journals/2548/; and at BIG http://gpb.big.ac.cn/.
Summary and full text (for some articles) in Chinese, manuscript template, and journal news, etc. can be found at http://gpb.big.ac.cn/.
Follow us at LinkedIn (@GPB Genomics Proteomics Bioinformatics) and WeChat (@GPBees).
Contact us:
Editorial Office of GPB
Beijing Institute of Genomics, Chinese Academy of Sciences
Building 104, No. 1 Beichen West Road, Chaoyang District
Beijing 100101
China
Tel: +86-10-84097425
Fax: +86-10-84097720
E-mail: editor@big.ac.cn
Homepage: http://www.elsevier.com/locate/issn/16720229.